In-store Grooming Services
In Store Services - Upper Darby, PA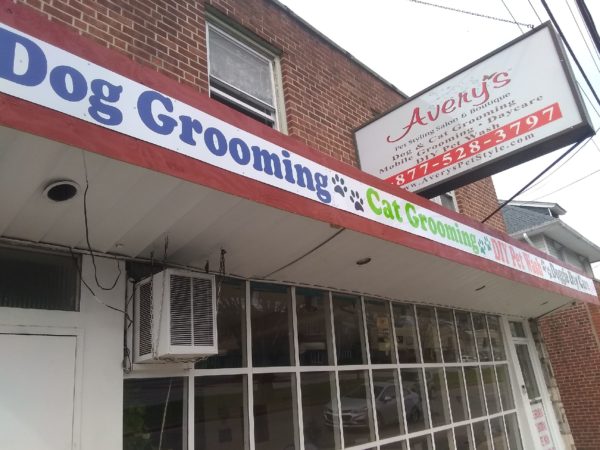 Need Pet Grooming Service Now?
Walk-in appointments available at our  Upper Darby, PA store. Walk-ins accepted based on availablity at our in-store location. We suggest you call ahead... 877-528-3797.
At Avery's, we treat every pet like a celebrity and now you can pick your own custom package to make your furbaby feel pampered and beautiful. We have three options for our pet parents to choose from:
In-Store

Grooming and Spa Packages

Our Most Popular Grooming Services
Polished Package. If you want good service at a great rate, this is the package for you! The polished package starts at $39.
Although this package has limited services, we are happy to make time to do some essential and fun things for you!
We offer a la carte services to choose from. For example, if you need a haircut, sanitary trim or Mohawk, just let us know! We can add these additional services to your package.
Elegant Package. This package is tailored for the pet parents that want to pamper their furbabies with as many services as possible.
This package is priced starting at $99. The elegant package has previously been only available in our mobile vans at your location however, large breeds, Doodles and cats can enjoy this package in our in-store location now too!
This package includes premium options for your furkid to have the best spa day.
Fancy Package. Includes everything that the Polished Package offers plus more lavish deluxe options for your furkid to enjoy.
The fancy package is priced starting at $55.
Includes Haircut, Nail Trim, and Ear cleaning and more.
Book

Below

We're Availble to Serve You
Polished Package
Refreshing Spa Bath
Blow dry
Brush Out
Nail Trim
Elegant Package
Health assessment
Hydrotherapy Massage Bath
Facial scrub
Paw scrub
Nail and paw pad trim
Sanitary trim
Ear cleaning and plucking
De-shedding/de-matting (15 minutes max)
Haircut and style
Aromatherapy
Fancy Package
Refreshing Spa Bath
Hand fluff dry
Haircut
Nail trim
Ear cleaning
Gland expression, as applicable
Aromatherapy
Note on Pricing
Prices for professional grooming services vary depending on breed type, weight, behavior, and coat conditions. Please call us with any questions. Please keep in mind that when we quote a price over the phone, it is only an ESTIMATE. A final price will be given once we check the condition of your pet at your grooming appointment.