With delicious holiday feasts coming, it is the perfect time
for a quick refresher on the holiday foods to NEVER feed your pet!
Be sure to share this information with your family too!
---
Of course, you want your dog or cat to be part of the holiday festivities! By proactively protecting your pet from bad holiday foods that are not pet-friendly, you can also avoid a stressful (and expensive) emergency vet visit!
Be Safe, Not Sorry!
Remember, it takes just a minute for your pet to get into trouble with appetizing holiday foods! Consider using a crate or at least baby gates to keep pets from begging at the table, getting underfoot in the kitchen and stealing holiday foods, snacks or drinks while your back is turned.
---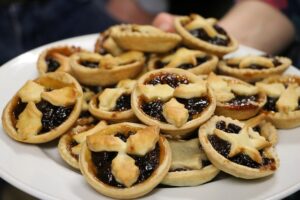 Christmas Pudding, Mince Pies, Yule Logs and Soaked Fruit Cakes are ALL huge no-nos for pets!
---
Know Better to Do Better
Bad Holiday Foods: Nuts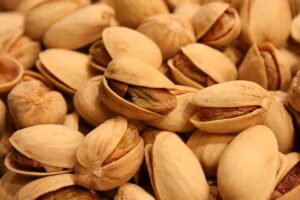 Specifically, macadamia, pistachios and walnuts. While not all nuts are toxic to dogs, almost all nuts are high in fat (creating potential GI upset or pancreatitis). Larger nuts may also pose a choking hazard. So better to be safe than sorry and keep all nuts, especially those that are salted, coated, candied or caramelized safely put away.
Beware of Xylitol in Holiday Foods
Another quite common danger, especially in commercial baked goods, candy and chocolate, is called xylitol. This popular artificial sweetener is common in hundreds of products from baked goods and desserts, to gum and mints, and even mouthwash, toothpaste, vitamins and supplements. While not toxic to cats, xylitol is very toxic, even fatal, to dogs.
Holiday Drinks are Not Pet-Friendly!
All alcoholic beverages and drink-mixing ingredients need to be safely kept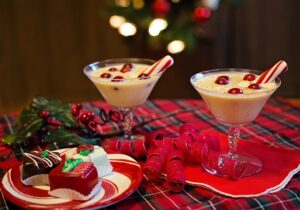 away from pets (and children). Wine, eggnog and even beer are never good for your pet. Keep in mind that dogs may be attracted to sweet, fruit-based cocktails, punches, ciders and seltzers. Diet alcoholic drinks are even more dangerous with the potential presence of xylitol, an artificial sweetener.
Raw potatoes and uncooked yeast dough are toxic items your dog should never eat!
Do Not Feed Pets Holiday Meat Scraps & Bones
Resist giving your pet meat scraps, skin, drippings and even stuffing. All these foods are packed with excess fat. Instead, keep your dog on their regular eating schedule with their regular food and keep plenty of pet-friendly treats on hand to appease sad and begging eyes!
Also, do not feed dogs cooked bones. These bones will often be brittle and can break into splinters injuring your dog's mouth, throat and intestines and necessitating a visit to your local vet hospital.
Bad Holiday Ingredients for Pets
Holiday cooking involves all kinds of delicious ingredients that should never go in your pet's mouth! For example:
Onions, mushrooms, leeks, scallions, shallots, chives and garlic
Blue Cheese (and other moldy foods) and dressings
Caffeinated drinks like coffee, tea and cocoa
Dairy products including milk, butter, cream and cheese
Spices like sages, baking powder/soda and nutmeg
Hanukkah Holiday Foods to Never Feed Your Pets
If you are celebrating Hanukkah, treats like latkes (potato pancakes), sufganiyot (donuts) and rugelach (pastries) should not be fed to your pets.
---
What CAN you share with Fido?
Cooked sweet potatoes (without sugar or spices), baked potatoes (without any toppings), pumpkin puree, cucumbers, steamed carrots, green beans, greens, broccoli, cauliflower, Brussel sprouts and some plain turkey meat.
---
Need a last-minute Christmas Gift for a Pet?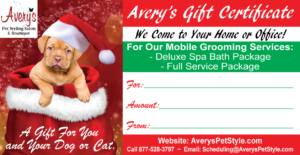 Gift Certificates for Avery's award-winning, mobile grooming services are the perfect, last-minute gift for both dog and cat owners will love to receive!
Click here to order (choose "Avery's Gift Certificate" on the drop-down menu)!
---
Additional Reading and Resources:
PetMD: Can Dogs Have Nuts?
AKC: What to Do If Your Dog Drinks Alcohol
PETA: 13 Holiday Foods that are Bad for Dogs
Canine Journal: 28 Foods Not to Feed Your Dog (and a List of Those You Can)
Images (In Order of Appearance):
Karolina Grabowska from Pixabay
Oli R from Pixabay
Darianstibbe from Pixabay
Salah Ait Mokhtar from Pixabay
Jill Wellington from Pixabay
Shlomaster from Pixabay
Courtesy: Avery's Pet Style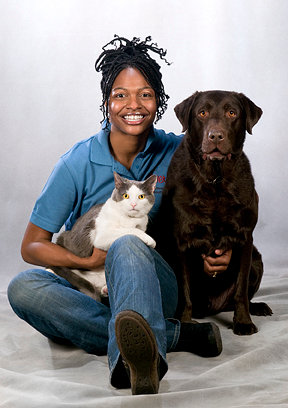 I'm the owner of Avery's Pet Styling Salon and Boutique. We offer comprehensive mobile pet grooming services for pet parents who want a professional pet grooming service to simplify their pet care decisions and enhance their lifestyle. I am also the owner of Avery's Holistic Paws, the creator of Probiotic Dental Sticks for Dogs.