Best Pet Halloween Costumes 2019
There are about two weeks until Halloween which means you should be putting those finishing touches on the costumes and hopefully, you've already gotten the kid's costumes out of the way.
But what about your pets, your furkids, they can be the most fun to dress up for the holiday. Here are some of the cutest pet Halloween costumes on the market. I'm going to show you the most important costume you could buy this trick-or-treat season, your pets.
Halloween Attire for Dogs
So first up this one is for all my dog owners. This Wonder Woman or should I say "Wonder Dog" costume is so precious. It's perfect for all the very good girls out there. And this ferocious lion down here looks like a killer. It might be the only lion I would ever try to cuddle. It'll have your lab looking like the king of the jungle. And then we scroll down here on the list to number seven and we've got the cutest dinosaur you've ever seen. Maybe you can dress up as Fred or Wilma Flintstone and pretend your dog is Dino? You're welcome for the idea!
And then at number eight look at this sweet Batman. Okay, this is the best-looking Batman I've ever seen. Even out of all the movies this one takes the cake, and it obviously comes with a cape because all superheroes need those. And at number nine this is my personal favorite, you guys are gonna love this one the piece of sushi. I literally cannot buy this one because I might never take it off of my dog that's how cute it is.
Costumes for Cats
Now for my cat lovers I know we have some of those. We'll scroll down here to the cat costumes. This pumpkin costume is perfect for your little pumpkin. And down here this cowboy cat. He's cute and hilarious because when your cat walks, it'll look like a cat walking upright. My favorite feline costume though is at the very bottom, which I feel is fitting for some cats – the devil. It may be a little too spot-on if you have a mischievous kitty, but it's definitely still adorable. So these are just some of the cutest options that we found.
Where to buy Halloween costumes for your pet
You can browse the full list with details on prices and sizes at this link.
Then when you get one, feel free to send us your pictures because I want to see all your pets in their spookiest, cutest, Halloween costumes.
As found on Youtube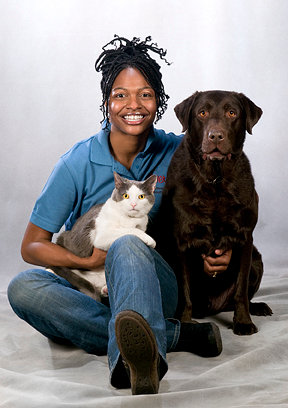 I'm the owner of Avery's Pet Styling Salon and Boutique. We offer comprehensive mobile pet grooming services for pet parents who want a professional pet grooming service to simplify their pet care decisions and enhance their lifestyle. I am also the owner of Avery's Holistic Paws, the creator of Probiotic Dental Sticks for Dogs.